OSP has always been dedicated to providing products of the highest possible quality. This is accomplished by utilizing the best available talent, adhering to the most exacting processes and investing heavily in technology.
As a result, Ohio Screw Products machines quality into every part. To complete our objective of ease and accessibility we offer full part submission packages including First Article, Multi-Level PPAP and APQP along with complete Quality Plans and Conformance Certifications. Ohio Screw Products proudly offers:
Sophisticated Vision Measuring Systems
Digital CMM (Coordinate Measuring Machine)
Full time Quality Engineering and Quality Conformance Departments
Quality Plans designed to exceed your specific requirements and existing standards
Certified Quality Machine Operators
Advanced Product Quality Planning for every job
Systematic job reviews for ongoing quality enhancements
Continuous Improvement Programs built from facts [SPC and AQL sampling data]
AIAG Membership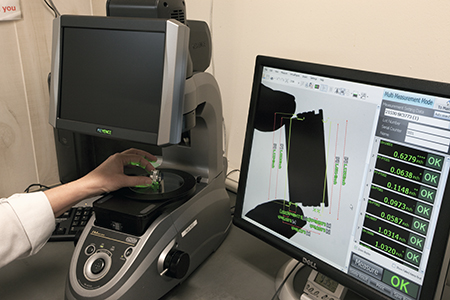 OSP's quality management system is certified to ISO 9001:2015
Our quality management system complies with all of the standard's strict demands including document retention and internal auditing of documented procedures. We also subscribe to the principles of Six Sigma.
Reporting/Traceability
OSP uses the Production Part Approval Process (PPAP) to ensure that the parts shipped to our customers have been machined according to the customer's specifications and satisfaction. PPAP assures our customers that OSP is complying with their part design requirements and tolerances and requires accountability using the following:
Control Plans
Failure Mode Effects Analysis (FMEA)
Process Flow Charts
Submission Warrants
Measurement System Analysis
Gauge Control
Gauges are calibrated and their locations are tracked.
Quality Guarantee
OSP understands that mechanical processes are never perfect 100 percent of the time. Machines, tools, and people occasionally fall short of perfection. OSP is committed to maintaining quality procedures that guarantee our customers will receive their parts according to their specifications.
Welcome to the OSP Advantage
Since 1945, we have what it takes to quickly incorporate your design into a finished product. Our Product Review staff was built from the ground up and is exceptionally skilled and focused on serving your unique requirements. Consisting of Manufacturing Engineering, Quality Engineering, In-House Tool Design, and a Process Review Team, our ability to transform your design into a completed part is unparalleled! Our mission is to ensure a smooth transition from your concept to full production — WELCOME to the OSP Advantage!