The Zero Leak Plug and Fitting technology incorporates a corresponding tapered seal surface on the male boss that mates with the tapered surface at the mouth of SAE and ISO Straight Thread O-ring Boss Ports. These locking tapers create a high integrity metal-to-metal seal additionally supported by an O-ring seal to ensure a no-weep and no-leak performance in any environment.
The Flare-o design mates with the standard 37° flare system but features multiple independent metal-to-metal seals as well as an O-ring seal. The O-ring size is carefully specified to be smaller in cross-section than the space available thereby creating a dynamic seal rather than a static gasket.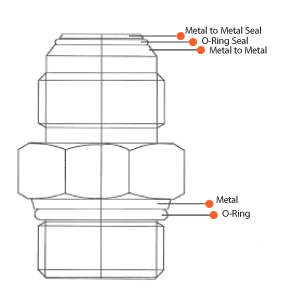 Welcome to the OSP Advantage
Since 1945, we have what it takes to quickly incorporate your design into a finished product. Our Product Review staff was built from the ground up and is exceptionally skilled and focused on serving your unique requirements. Consisting of Manufacturing Engineering, Quality Engineering, In-House Tool Design, and a Process Review Team, our ability to transform your design into a completed part is unparalleled! Our mission is to ensure a smooth transition from your concept to full production — WELCOME to the OSP Advantage!