Highly Versatile Sight Glass Plug
Ohio Screw Products' True Sight Plug utilizes our Zero Leak Technology and allows for a "tool free" inspection and verification of fluid levels required for safe and proper operating conditions of any application utilizing fluids for cooling or lubrication (oil, transmission fluid, water, etc.).
Used in Oil Reservoirs, Tanks and Vessels both static and vibratory
Operating temperature range of -40° to 300°F (-40° to 149°C) and Max. 520 psi
Substantially lower cost with increased benefits
Proven durability and strength as supported by test results from the independent testing lab of Kalian Analytical
White interior reflector provides easy-to-see positive visual display
Seal design not affected by system's environmental temperature swings or geographically related temperature ranges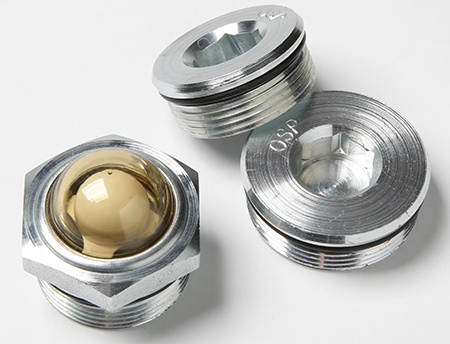 Welcome to the OSP Advantage
Since 1945, we have what it takes to quickly incorporate your design into a finished product. Our Product Review staff was built from the ground up and is exceptionally skilled and focused on serving your unique requirements. Consisting of Manufacturing Engineering, Quality Engineering, In-House Tool Design, and a Process Review Team, our ability to transform your design into a completed part is unparalleled! Our mission is to ensure a smooth transition from your concept to full production — WELCOME to the OSP Advantage!